"Bee" Inspired!
"Bee" inspired. "Bee" creative. "Bee" you! However you choose to express yourself, there's a Gel Bee pen to help you do it colorfully and beautifully.
Gel Bee pens are ideal for a wide range of artistic applications and projects, such as:
• Art/drawing
• Scrapbooking
• Organization/journaling
• Thank you notes/greeting cards
• Yearbook signing
• And more!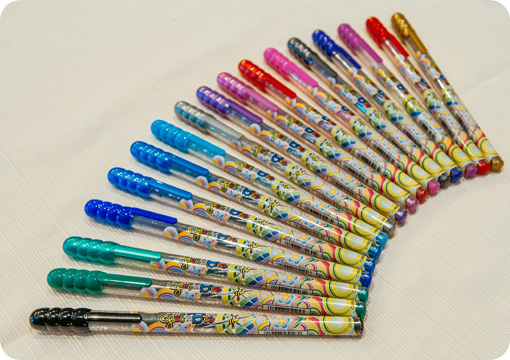 See what creative projects are buzzing in our Bee Hive!
Special thanks to CrafteeDiva, Debi Mills for her scrapbook creations.
I absolutely love the gel bee pens, they are the best ones out there.
Elvia
I absolutely love Gel Bee pens. They write so smoothly and vividly and the colors are beautiful and consistent while writing. I use them daily and, after trying many other gel pens, Gel Bees are by far the best…including the price, color variety, and they consistently write the best and last the longest! Thank you, Gel Bee. You have a WINNER!
Anonymous
How silly to say… but Gel Bee makes me happy!
Diana
I love these Gel Bee pens. I have disabled hands and they are the best for me to write easily. They are great for color coding and making your words stand out! .
Scr...